EnviroVent energiSava 400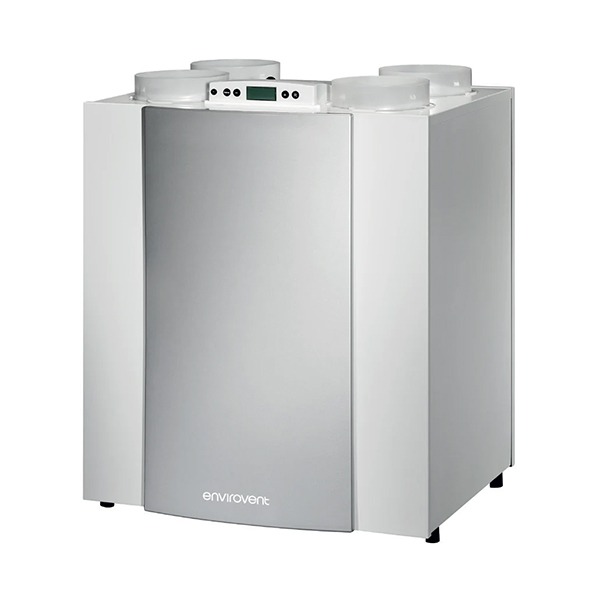 The Envirovent energiSava 400 is a high power centralized MVHR unit designed for use in medium sized to larger houses and shared accommodation.
With maximum airflow capacities of 400 m3/h respectively, they are available in left-handed and right-handed versions with a range of options for connecting the ducts. In addition to the comprehensive standard version, a 'Plus version' is also available which offers additional connection options, such as a CO2 sensor.
The energiSava 400 provides optimum ventilation for a property with a minimum loss of energy. It extracts moisture-laden air from the wet rooms such as bathrooms, WCs, kitchen and shower rooms. At the same time it supplies fresh air into the living areas (living rooms, bedrooms, dining room). The energy from the extracted air is transferred to the new fresh air and resupplied into the property, creating an all year round, ideal indoor environment.
Delivering up to 89% thermal efficiency
Left or right-hand configurations
Intelligent frost protection system prevents the heat exchange from freezing when cold outside
Integral humidity sensor
Temperature controlled integral mechanical summer by-pass as standard
Easy to remove plug in/plug out filters
Intellitrac® technology, the unique humidity tracking controls
App-enabled version available
Summer Bypass & Frost Protection
The bypass contributes to an improved comfort level in summer and is controlled automatically by measuring indoor and outdoor temperatures. The intelligent frost protection with preheater guarantees the high efficiency, even at extremely low temperatures. 
Engineered with aerodynamic fans to run at lower rates enables noise to be reduced and minimalized, whilst lower internal resistance delivers exceptionally quiet running.
The energiSava® 400 unit can be controlled with a 4-way switch with filter indication or a wireless remote control. Alternatively, using the intelligent control module with timer, or the relative humidity sensor.
Need More Information. Get in Touch Today!